Fast Configuration¶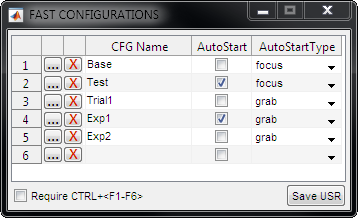 Description¶
Quickly switch between up to six Configuration Controls (CFG) files using this dialog.
The Fast Configurations window, from File >> Settings >> Fast Configurations…, allows specified CFG files to be associated with buttons on Main Controls and keyboard shortcuts) for one click (press) access to frequently-used configurations.
Controls¶

 Open a configuration file and assign it to the corresponding row.

 Clear the current configuration from the corresponding row.
CFG Name: The currently bound configuration file.
AutoStart?: If checked, this indicates that when the configuration is loaded the corresponding AutoStartType mode will be activated.
AutoStartType: One of focus, grab, or loop.  If AutoStart? is checked, this mode will be activated when a specific Fast Configuration is loaded.
Notes¶
Activating Fast Configuration¶
---
Keyboard hotkeys¶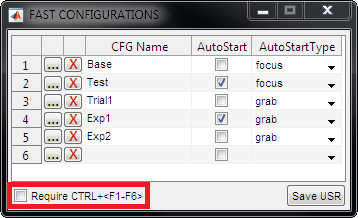 | | |
| --- | --- |
| Keyboard shortcut | Description |
| F1-F6 | (Default) Keyboard hotkeys to activate configurations 1-6. |
| Ctrl+<F1-F6> | If the Require CTRL+<F1-F6> checkbox is check, configurations 1-6 the CTRL key must be pressed at the same time as one of F1-F6. |
| Shift+<F1-F6> | Bypass AutoStart?. The configuration will load, but the acquisition mode will not start. |